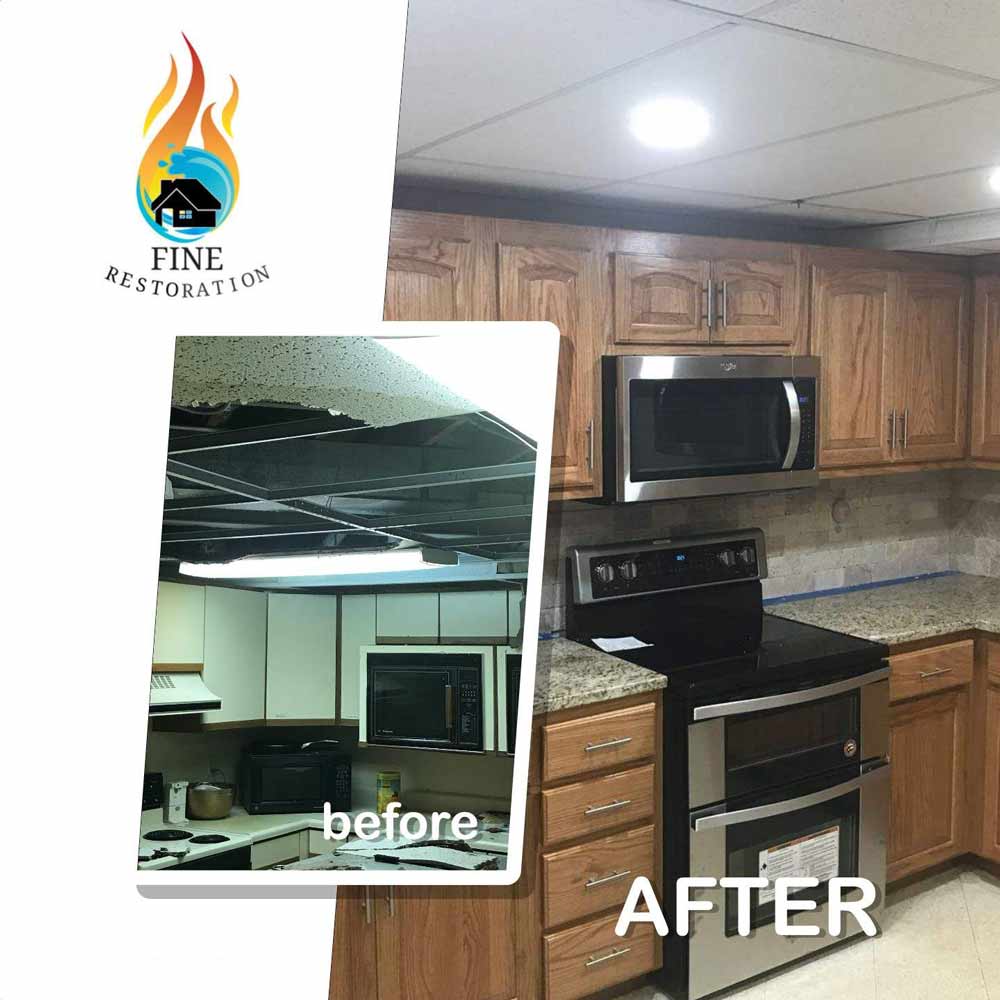 About Fine Restoration in Raymore MO
Fine Restoration is an IICRC certified water damage company in Raymore MO. No matter your water damage cleanup, repair or restoration needs, Fine Restoration is on call 24/7 to assist. We are also the name to trust for mold remediation, flooded basement cleanup, storm damage repair, smoke removal and fire damage restoration services in Raymore. No matter your commercial or residential needs, contact the experts at Fine Restoration.
FAMILY OPERATED & LOCALLY OWNED
Fine Restoration is family operated and locally owned. Unlike nationally owned companies, we understand the needs of the community we serve.
CUSTOMER SERVICE IS OUR NUMBER ONE PRIORITY
Customer services is our number one priority. Because we are locally owned and operated, you will always be speaking with someone in the community when you call Fine Restoration, and our point of contact will keep you updated each step of the way.
WE GET LIFE BACK TO NORMAL QUICKLY
Fine Restoration is on call 24/7 and will be on site fast to mitigate damage and start the cleanup process. Our fast arrival times limits damage. lowering the cleanup and repair times needed. Contact Fine Restoration your Mold Damage, Storm Damage, Fire Damage and Water Damage Company in Raymore MO now!
FINE RESTORATION IS ON CALL 24/7 FOR RESIDENTIAL & COMMERCIAL EMERGENCY RESTORATION SERVICES IN RAYMORE MO

Immediate Response

Personal Service

Family Owned & Operated

Licensed & Insured
I have nothing but good things to say about this company. I was stuck with a water mess and no one to help. I called them they came right out. They were very friendly, and made sure that everything was done correctly. I would definitely recommend them!
Amanda Day
20:59 22 Jan 21
They were quick to respond and did a fantastic job!
lila stone
21:47 12 Jan 21
Amy LaFave
13:42 06 Jan 21
Had sewage back up in basement. They arrived swiftly and advised me to call my insurance. Luckily, I had taken out the extra coverage! They cleaned everything, made it smell so much nicer, and once I received insurance claim, they came in for repairs and rebuilding. Excellent workers, clean and friendly. Workmanship was everything I had hoped for and I am very happy. Thank you so much!!
Rosemary Friend
00:21 06 Jan 21
Our home sustained an enormous amount of water damage when the supply line to the toilet failed, pouring gallons of water into our home for 4 days while out of town. FINE Restoration was called in after our insurance recommended water mitigation company failed to assemble crews or make adequate attempts to demo and dry out the soaked walls or salvage our belongings!FINE Restoration immediately took control of the situation and got to work. They employ a team of experts full time and it was nice to see the same group daily and build a rapport. OTHER COMPANIES DO NOT OPERATE THIS WAY!We had extensive water damage, FINE handled the entire demo down the studs! Jason brought in mold experts, engineers and electricians to ensure that everything was done properly as we have children and had one on the way- Jason was a former inspector as well and safety was the utmost priority for them.FINE worked day in and day out with the adjuster as a consultant driving the replacement/rebuild cost. This took a huge chunk of time, but they did it gladly. FINE was amazing to work with. They were efficient, responsive experts in water mitigation. I spoke with Jason multiple times daily for 6+ months. I was so grateful to have a locally owned team behind us that held our hand through the very cumbersome process. FINE has raised the bar in the their line of work, I cannot imagine many would go above and beyond like this team. They are true advocates for their customers in a world where customer service is not priority in most places, we were BLOWN AWAY!This was a very stressful time for our family having to live outside of our home with 3 school aged children. FINE took so much of the stress out of this process for us during the rebuild. They transformed our home seamlessly all the way to the very last detail! We highly recommend FINE Restoration, you will not find anyone that operates more professionally with urgency!
Amanda Ruiz
16:52 22 Dec 20
Excellent work at a reasonable price.
Sufi Thomas
17:37 30 Oct 20
Fine Restoration saved our home when we came home after a 5 week absence to find that the city sewer system had backed up in it while we were out of town. They were here within an hour, remediated everything, and carefully moved furniture, etc. as needed. They have responded quickly to all questions and requests since then as well. Highly recommend.
Marybeth Fuller
19:37 16 Oct 20
This team was awesome to work with! Aviel was a life saver when it came to me understanding what was going on in my own house and how helpful she was navigating insurance! I couldn't have done it without her. Nik and the guys who came and did the work were friendly and worked fast and did a great job. Will totally recommend them for all their services!
Chelsey Murphy
14:41 16 Oct 20
Fine Restoration LLC were fantastic! They were at my house within an hour of me calling to inspect a 4 foot water mark line I just noticed in my dining room. They thoroughly inspected the ceiling and the upstairs and (thankfully) deduced that this was a non issue and most likely due to an event prior to my move into the home (there is nothing upstairs above the mark but a bedroom). They instantly took a ton of possible financial weight off my shoulders and all zero charge.... free estimates! I definitely recommend, extremely professional with very fast response time!!
Nate Kalberer
23:10 01 Oct 20
This company was great to work with. Two of their employees came out and were very respectful and professional. They did an awesome job and would refer them to anyone. Very reputable!
We suffered an ice maker line failure in the middle of the night resulting in significant damage to the kitchen and garage. I ran across Fine restoration on Google and I am so glad that I did! They arrived quickly and immediately got to work drying out the house and removing damaged materials. We also selected them to do the rebuild portion as well and we could not be more pleased with the results! The quality and attention to detail by the contractors was exceptional! Their help with the insurance company was greatly appreciated as well, they were an advocate for us. Would highly recommend Fine to anyone needing restoration services!
Chris Cline
18:48 27 Sep 20
Carolyn Fisher
19:24 11 Sep 20
Very professional and high quality work - done correctly and efficiently.They did a good job and I would recommend them to anyone....
They are amazing. Did a great job, they have been so helpful through this whole process after my house flooded (both the flooding and with insurance), and they really helped ease my stress with process. They are extremely knowledgeable, and I feel they went above and beyond. They are high in demand because they are that good.
Jennifer Davis
02:02 03 Sep 20
Fine Restoration and Maoz we're out quick to start working on drying out my basement. They also managed the restoration with new carpet and painting. Everything looks great and they completed everything in 3 weeks. Great experience.
Timothy Stephens
23:04 25 Jun 20
They came to assess my basement for possible mold. I very much appreciated that they were honest and told me there was no mold. They didn't charge me for the assessment. They were professional and friendly. Definitely will call them again in the future if needed.
Emily Ford
20:13 18 Jun 20
We used this company to clean and dry out the finished space in our lower level after a heavy rain overwhelmed our sump pump, leaving the floors and walls very wet. They were knowledgeable, responsive and very professional in their approach, and we were very pleased with the result--the affected space was dry, sanitized and useable again. Thank you.
Susan Williams
18:23 06 Jun 20
When I had water line break in my rental mobile home, I had no idea really what to do next. Fine restorations responded quickly it took charge of the situation. They saved a lot of time and work and money repairing things that would have been damaged had they not got the water removed that quickly. I have no problem recommending this company for their speed, expertise, and value.
Rod Richter
16:12 12 Mar 20
I own a local business and am in and out of houses where Fine Restoration have been and have seen much of their work. If your looking for quality your in the right place !
Thank you for your services and taking care of us. We appreciate your hard work. We highly recommend you guys.
TOUCHDOWN KC
19:44 26 Feb 20
This company is exceeded our expectations. THEY truly went above and beyond. It is hard to find a company that cares about your situation. They are very professional, courteous, and above all else kind. We experienced a tragedy shortly after purchasing our home. We called fine restoration and the job was completed quickly and professionally. We truly appreciate what fine restoration did for us and highly recommend them.
Jonathan Lara
19:24 21 Oct 19
They were so patient in working with us. They directed us on how to deal with our insurance company . And the work they completed was excellent. If there was a delay they informed us. We would highly recommend them. Thank you for being a business of integrity.
Barbara Ford
16:19 05 Oct 19
I came home from work on April 30th and at 7:30 pm went down into our finished basement, only to find several inches of water. I did a Google Search for a water restoration company and I called Fine Restoration in a panic. To my surprise Aviel answered on the first ring, I told her what I had found and she said she would have a team at my house within 20 minutes. We had gotten several inches of rain that day and our sump pump just couldn't keep up. The rain was still coming down, it was a nightmare. The Team from Fine Restoration showed up in the time frame I had been given and they got right to work. Every member of their team worked quickly and efficiently and within an hour they were vacuuming up excess water and starting the carpet tear out. They brought in several industrial drying fans and placed them strategically throughout the basement. Everyone was very polite and genuinely had concern for the trauma that we were experiencing. For the next week on a daily basis a member of their team came and tested the sheetrock and monitored the dampness. They moved the fans as needed and continued to give us updates on the progression of the drying out process. I have never experienced the kind of compassion that their team had for our home and for us. We felt like we were family, that's how we were treated. I now have their phone number saved in my phone and would not hesitate for a second to call them again. Aviel is wonderful, she communicated directly with our Claims Adjuster and copied me on all her correspondance. Every T was crossed and every I was doted, she was very thorough with her documentation, and responded quickly to questions. This is one TOP NOTCH company! Thank you to everyone at Fine Restoration.
Chris Drummond
23:37 20 Aug 19
I really appreciate the service, the professionalism and how quick Fine Restoration responded to the furnace fire in our home. Furnace caught fire in the middle of the night during an ice store and they were there within 24 hours to replace my furnace so we didn't have to be without heat. We are so appreciative of them and would recommend that anyone reading this use there service.
The Alternative Concept Group
20:41 03 Aug 19
Outstanding service in helping with our flooded basement.
Shawn Koonce
20:48 20 May 19
Exceeded all my expectations. Very quick response to my call with excellent follow through to the end of the project. Answered all questions knowledgeably. I would 100% recommend Fine Restoration.
Melodi Graessle
12:22 09 May 19
I would give 10 stars if it was an option:-) We had a basement flood, emergency situation. I called several companies and had no luck getting anyone to help. I reached FINE Restoration and they had a crew out here within 20 min! The business owner Jason and his business partner Moes were here personally to assist me. They both assured me that they work for me, not our insurance company! FINE handled the water removal as well as the repairs and remodel. Excellent quality and an absolute pleasure to work with. We are so in love with our new basement! All workers were on time, respectful and trustworthy. I would trust this company! They are fantastic!!
Amy Rufino
16:45 15 Jan 19
The workers are great and get the job done well! They worked with the insurance adjuster to get everything squared away and were very patient and understanding when the lien holder took over a month and a half to release the rebuild check after Fine Restoration had already completed the work. I was replied to quickly by everyone at Fine Restoration. I would recommend them for any jobs you may have.
Edward Grubb
18:50 27 Dec 18
Monica Hamel
01:12 28 Sep 18
Cannot say enough good things about this company! Jason and everyone that worked on our water damage repair were wonderful, professional, polite and did the work in a timely fashion.. They went above the call in everything they did, from cleaning up the water and damage, dealing directly with our insurance company and re-building the damaged areas. I highly recommend this company and will tell everyone that needs this type of service that they are the standard to compare others by.
Terri Lindsey
18:55 18 Sep 18
I had a bathroom leak and I somehow got a hold of this water damage company and found them to be super responsive as they immediately answered their phone and got out to my place right away. Gave me a reasonable, free quote. They got to work right away and fixed the issue in a very professional manner.
Christi Meyer
21:19 19 Jul 18
A busted pipe is not a fun way to start your weekend! The work they did was amazing, very professional and left everything super clean afterwards. I would highly recommend Fine Restoration for any water damage issue problems you might have.
Lydia Davis
18:54 18 Jun 18
Very helpful guys. Got out to my home right away, gave me a free estimate and helped me gather all the information that was needed for my insurance company so I could file a claim. I definitely recommend them! Thank you!
Samantha Larsen
16:27 04 Jun 18
Contact Fine Restoration for Emergency Restoration Services in Raymore MO
Contact us online or call our fire, mold, storm and water damage company in Raymore MO at 913-270-3646. Fine Restoration is on call 24/7 for flooded basement cleanup, storm damage repair, sewage backup cleanup and other water damage restoration needs, mold removal, mold damage repair and mold remediation, and smoke removal & fire damage restoration services in Raymore MO. Contact us now for all of your commercial and residential restoration services in Raymore, Kansas City, Warrensburg, Lee's Summit, Spring Hill, Overland Park, Shawnee, Prairie Village, Grain Valley, Leawood, Blue Springs, Independence, Lenexa, Olathe, Liberty, Missouri City, Lake Winnebago, Bonner Springs, Belton, Farley, Lone Jack, Grandview, Oak Grove, Riverside, Buckner, Smithville, Raytown, Lake Lotawana, Edwardsville, Gladstone, and other nearby service areas in Kansas and Missouri.