Emergency Roof & Ceiling Leak Repair in Blue Springs
Have you experienced water damage as a result of a roof leak or ceiling leak? Fine Restoration is on the clock 24 hours a day to assist with emergency ceiling leak repair and roof leak repair in Blue Springs MO. Whether your roof or ceiling leak was caused as a result of storm damage, broken or leaking pipes, sewage backup, appliance overflows, or any other issue, Fine Restoration is the IICRC certified name to trust 24 hours a day. Call 913-270-3646  or contact us online 24 hours a day to receive a free assessment over the phone for emergency roof leak repair and ceiling leak repair in Blue Springs MO.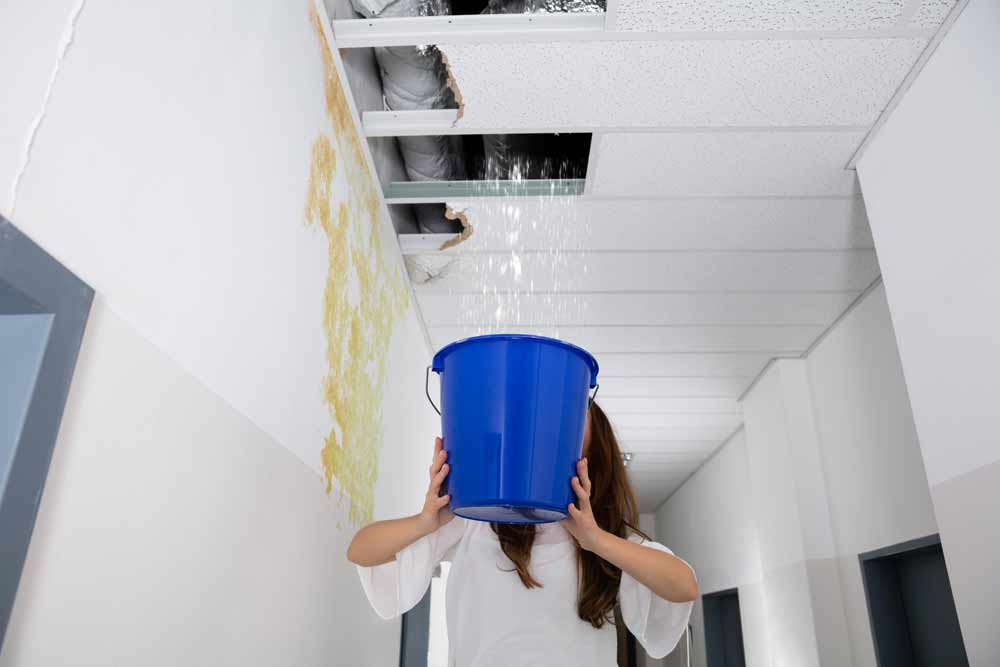 Our Services for Water Damaged Roofs & Water Damaged Ceiling in Blue Springs
Fine Restoration is more than just a water removal and water damage cleanup company. We are IICRC certified and capable of providing water damage repair and restoration for water damaged roofs and water damaged ceilings in Blue Springs MO. No matter the services you need, contact Fine Restoration for commercial and residential ceiling leak repair and roof leak repair in Blue Springs MO:
Emergency Mitigation Services
Storm Damage Repair & Restoration
Emergency Water Removal & Extraction
Leaking, Broken & Frozen Pipe Repair
Contents Dryout & Deodorization Services
Inventory, Pack Out & Storage of Belongings
Ceiling Repair & Roof Patching
Rebuild & Restoration Services
Direct Insurance Filing
Handling of Insurance Claims
And Any Other Services You Need!
How We Handle Water Damaged Ceilings & Roofs in Blue Springs MO
When you contact Fine Restoration for ceiling leak repair or roof leak repair in Blue Springs MO a member of our team will provide an initial assessment over the phone. In about an hour we are onsite to mitigate any further damage and get started on water damage cleanup. By placing tarps on roofs, boarding windows, setting up containment zones and taking other measures, we stop damage from spreading. Standing water is removed with pumps and fans and your area is sanitized with hospital grade cleaners. Personal items are moved offsite and damages are inventoried. We provide a quote directly to your insurer and get started on water damage repair services. Whatever damages you have experienced inside or out, Fine Restoration will handle. Not only do we take care of ceiling roof repair and roof leak repair in Blue Springs MO, our team will repair damaged walls, floors, and other areas. Once all work is complete we make certain that your moisture levels won't allow for mold development and then contact your insurance company to submit a claim. Fine Restoration is the name to trust for all of your water damage restoration needs in Blue Springs and beyond. Contact us around the clock for water damaged ceilings, water damaged roofs and other water damage emergencies.