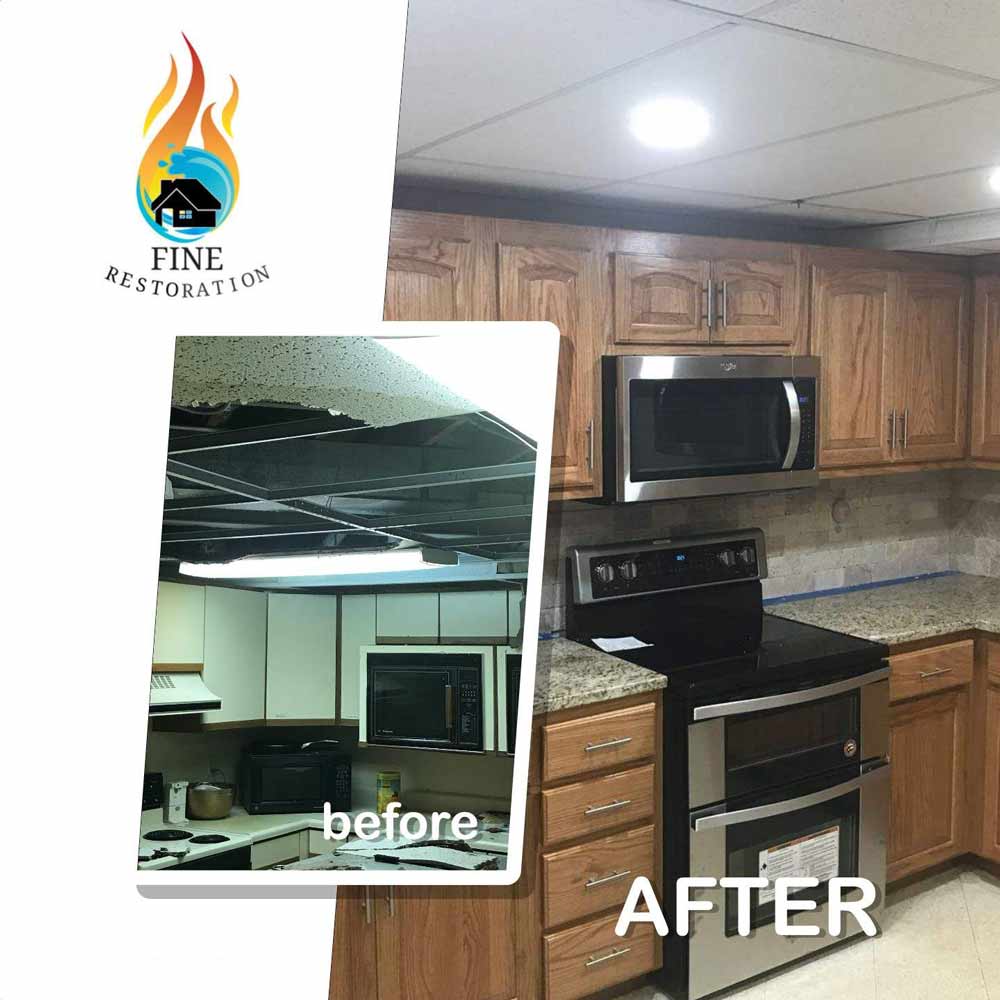 About Fine Restoration in Spring Hill KS
Fine Restoration is the IICRC certified water damage restoration company in Spring Hill KS you can count on 24 hours a day. But we are much more than just a water damage company… Fine Restoration is the name to trust for water damage restoration, mold remediation, storm damage repair and flooded basement cleanup and fire damage restoration services in Spring Hill and surrounding areas.
LOCALLY OWNED & FAMILY OPERATED
Fine Restoration is a locally owned family operated business. We give you more attention than "the big guys" because we care abut the community in which we live and work.
CUSTOMER SERVICE IS OUR NUMBER ONE PRIORITY
Fine Restoration treats each customer we serve as our top priority. Because we are a locally owned business, we understand the unique issues facing the community. When you call Fine Restoration after a storm or other disaster, you speak with a local representative familiar with the situation. Once we take the job, you will receive regular updates on progress from a technician familiar with the specifics of the work being done.
WE GET LIFE BACK TO NORMAL FAST
No matter when you experience water damage, storm damage, mold damage or fire damage, Fine Restoration will be on site quickly to start the cleanup and repair process. Fast arrival minimizes further damage and allows our team to get your life back to normal quickly. Contact our Mold, Storm, Fire and Water Damage Restoration Company in Spring Hill KS 24 hours a day!
FINE RESTORATION IS ON CALL 24/7 FOR  COMMERCIAL & RESIDENTIAL EMERGENCY RESTORATION SERVICES IN SPRING HILL KS

Immediate Response

Personal Service

Family Owned & Operated

Licensed & Insured
Dedee Novak
15:52 02 Apr 21
The company is amazing. Quick service. Professional staff. Constantly checking on the job and answered any questions we had. Highly recommend.
Kellie Jones
19:26 19 Mar 21
Great company to work with. They were here 40 minutes, after our call. Friendly and very professional. Nic and his crew did a great job drying out our hardwood floors.
Susan Willard
18:27 18 Mar 21
Hands down one of the best companies I've ever worked with. The owner showed up with in an hour of calling, had a solution to our problem and had his crew there shortly after. Very professional, great communication throughout the entire process. As a business owner I can say these guys are on point!
jason barton
14:24 15 Mar 21
I had a busted water pipe due to the frigid weather. I called the recommended companies my insurance suggested but they are all busy. Made a call to Fine Restoration and they came the same day I called them. I was relieved because I was afraid that molds will start growing and people in the house will get sick. The manager Nic came and he reassured us that everything will be taken care off immediately. They were busy that night but they came the next day to removed all the items that had water damaged. They were quick and very professional and easy to work with I highly recommend this company. If there are more than 5 stars, I will give it to them. Lu from Blue Springs.
Lucila Rider
16:27 01 Mar 21
We had a loss due to wind and hail and it led to water damage on the interior of our home. I called Fine Restoration because they were a small business and local. I always try to support both of those. Anyway, I called on a Saturday and they showed up right away and began placing fans where they needed to be placed. A day later they began tear out. Due to the insurance process the restoration startup took longer than expected, but that wasn't Fine Restoration's fault. They were quick to get back in and start the process of getting us back to normal. In the end, our home turned out great. They were very responsive to my concerns and they did the repairs correctly. I couldn't have asked for a better company to work with. I highly recommend them to anyone wanting quality work. Nick did a great job with the mitigation and Aviel was also just as wonderful to work with on the details. They went above and beyond and we are grateful for all of their help. Thank you for such a stellar job on our home! A big shout out to their floor guy, Don too. When doing a hardwood floor, ask for that guy!
Josh Lansdale
00:30 24 Feb 21
Jeff Rajer
21:41 19 Feb 21
I have nothing but good things to say about this company. I was stuck with a water mess and no one to help. I called them they came right out. They were very friendly, and made sure that everything was done correctly. I would definitely recommend them!
Amanda Day
20:59 22 Jan 21
They were quick to respond and did a fantastic job!
lila stone
21:47 12 Jan 21
Amy LaFave
13:42 06 Jan 21
Contact Fine Restoration for Emergency Restoration Services in Spring Hill KS
Contact us online or call our storm, mold, fire and water damage restoration company in Spring Hill KS 24 hours a day at 913-270-3646. Fine Restoration is always available for storm damage repair, flooded basement cleanup, sewage backup cleanup and other water damage restoration needs, mold removal and remediation, and smoke & fire damage restoration services in Spring Hill KS. Contact us now for all of your commercial and residential restoration services in Spring Hill, Kansas City, Lee's Summit, Overland Park, Warrensburg, Shawnee, Blue Springs, Prairie Village, Leawood, Independence, Grain Valley, Lenexa, Liberty, Olathe, Missouri City, Belton, Lake Winnebago, Farley, Lone Jack, Bonner Springs, Grandview, Raymore, Oak Grove, Buckner, Raytown, Smithville, Riverside, Lake Lotawana, Gladstone, Edwardsville, and other nearby service areas in Kansas and Missouri.