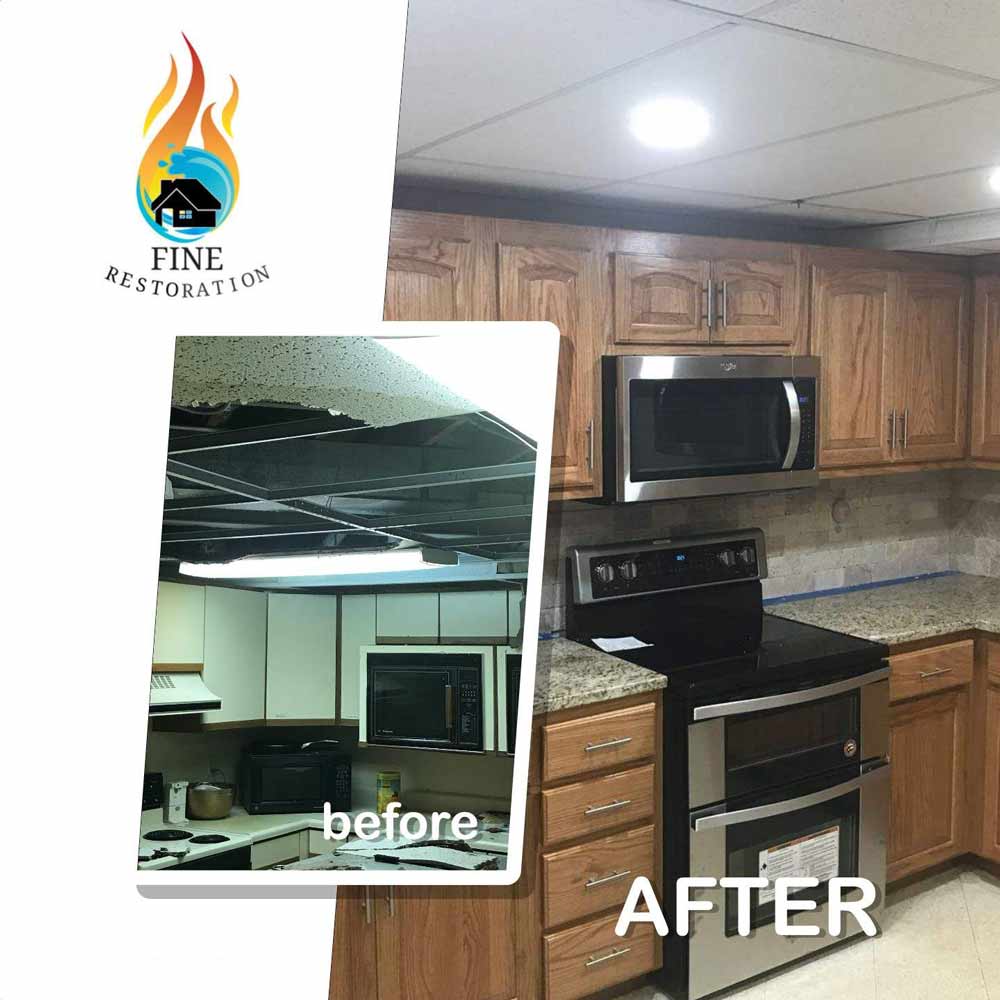 About Fine Restoration in Spring Hill KS
Fine Restoration is the IICRC certified water damage restoration company in Spring Hill KS you can count on 24 hours a day. But we are much more than just a water damage company… Fine Restoration is the name to trust for water damage restoration, mold remediation, storm damage repair, and flooded basement cleanup and fire damage restoration services in Spring Hill and surrounding areas.
LOCALLY OWNED & FAMILY OPERATED
Fine Restoration is a locally owned family operated business. We give you more attention than "the big guys" because we care to about the community in which we live and work.
CUSTOMER SERVICE IS OUR NUMBER ONE PRIORITY
Fine Restoration treats each customer we serve as our top priority. Because we are a locally owned business, we understand the unique issues facing the community. When you call Fine Restoration after a storm or other disaster, you speak with a local representative familiar with the situation. Once we take the job, you will receive regular updates on progress from a technician familiar with the specifics of the work being done.
WE GET LIFE BACK TO NORMAL FAST
No matter when you experience water damage, storm damage, mold damage, or fire damage, Fine Restoration will be on-site quickly to start the cleanup and repair process. Fast arrival minimizes further damage and allows our team to get your life back to normal quickly. Contact our Mold, Storm, Fire, and Water Damage Restoration Spring Hill KS-based company 24 hours a day!
FINE RESTORATION IS ON CALL 24/7 FOR  COMMERCIAL & RESIDENTIAL EMERGENCY RESTORATION SERVICES IN SPRING HILL KS

Immediate Response

Personal Service

Family Owned & Operated

Licensed & Insured
Very quick to respond! Came within an hour of my call and was so kind, personal & knowledgable! Got everything taken care of in a timely manner. Will definitely use them again if we have another water issue!
Lindsay Bowen
22:43 07 Jun 21
Maoz arrived and provide excellent advise and plan of action to restore and get my house back livable. I appreciate and highly recommend him for his honesty and integrity.
Mindy McCalla
19:26 17 May 21
These fellas were very kind, professional, jumped right on this mess. I recom.end th to anyone! Thank you for all you did!
Connie Gibson
20:42 14 May 21
When I needed help with water damage in my basement on a Sunday, and mother's day Sunday Maoz and his staff come thru! Fine Restoration is the only go to for us now!!
zach wells
23:52 10 May 21
Courteous, professional, pleasant at an unpleasant job. I would certainly call them again if I needed help.
Anne Haehl
21:05 05 May 21
Our experience with the crew who helped us after a sewage overflow in the city line began flooding our basement with sewer water was amazing. They were out to our house about 30 minutes after we called and immediately began clean up. They were very professional and took all steps to make sure our basement was sanitized and safe. They worked with our schedules and were so kind! If we ever have an emergency again, we will be using this company.
Haley Brock
18:19 29 Apr 21
This is a wonderful, customer oriented service company. I highly recommend their services. On a Sunday evening, our dishwasher overflowed on to our hardwood floors. We got up as much water as we could and then called Fine Restoration at 7:30 Monday morning. Their crew arrive around 8:30, quickly assessed what needed to be done and had their equipment running to dry out our floor by about 9:15. The crew leader, Nick, came back each morning to check their equipment's progress. The drying process was completed by Thursday morning. We were completely satisfied with their service. Many thanks to Nick and his crew and to Fine Restoration.
David Glandon
01:43 26 Apr 21
Dedee Novak
15:52 02 Apr 21
The company is amazing. Quick service. Professional staff. Constantly checking on the job and answered any questions we had. Highly recommend.
Kellie Jones
19:26 19 Mar 21
Contact Fine Restoration for Emergency Restoration Services in Spring Hill KS
Contact us online or call our storm, mold, fire, and water damage restoration Spring Hill KS-based company 24 hours a day at 913-270-3646. Fine Restoration is always available for storm damage repair, flooded basement cleanup, sewage backup cleanup, and other water damage restoration needs, mold removal and remediation, and smoke & fire damage restoration services in Spring Hill KS. Contact us now for all of your commercial and residential restoration services in Spring Hill, Kansas City, Lee's Summit, Overland Park, Warrensburg, Shawnee, Blue Springs, Prairie Village, Leawood, Independence, Grain Valley, Lenexa, Liberty, Olathe, Missouri City, Belton, Lake Winnebago, Farley, Lone Jack, Bonner Springs, Grandview, Raymore, Oak Grove, Buckner, Raytown, Smithville, Riverside, Lake Lotawana, Gladstone, Edwardsville, and other nearby service areas in Kansas and Missouri.