THE FIRST STEP
Identify and Stop the Water Damage Source
Water damage is not always easy to detect. Keeping an eye out for the most common symptoms will allow you to take early action and prevent the damage from expanding. Common signs of water damage include:
– Water dripping or puddling
– Damp or rotting smells
– Soft spots on your walls, floors, and ceiling
– Discoloration as the result of rot or mold growth
– A decrease in your indoor temperature
THE SECOND STEP
Initial Inspection & Damage Assessment
After finding the source of the water damage, our experienced technicians will start the water damage remediation process by conducting a thorough inspection. The objective of the inspection is to find the primary cause of the flooding and assess the potential damage to your property as well as health risks.
Our technicians will also determine the water's cleanliness category. Three types of water can damage your home:
– White water that has a sanitary source, for example, your home's water supply pipe
– Grey water is contaminated to an extent and can be unsafe to digest, for example, water that you used for laundry
– Black water comes from unsanitary sources, for example, sewage water, and can be hazardous to your household's health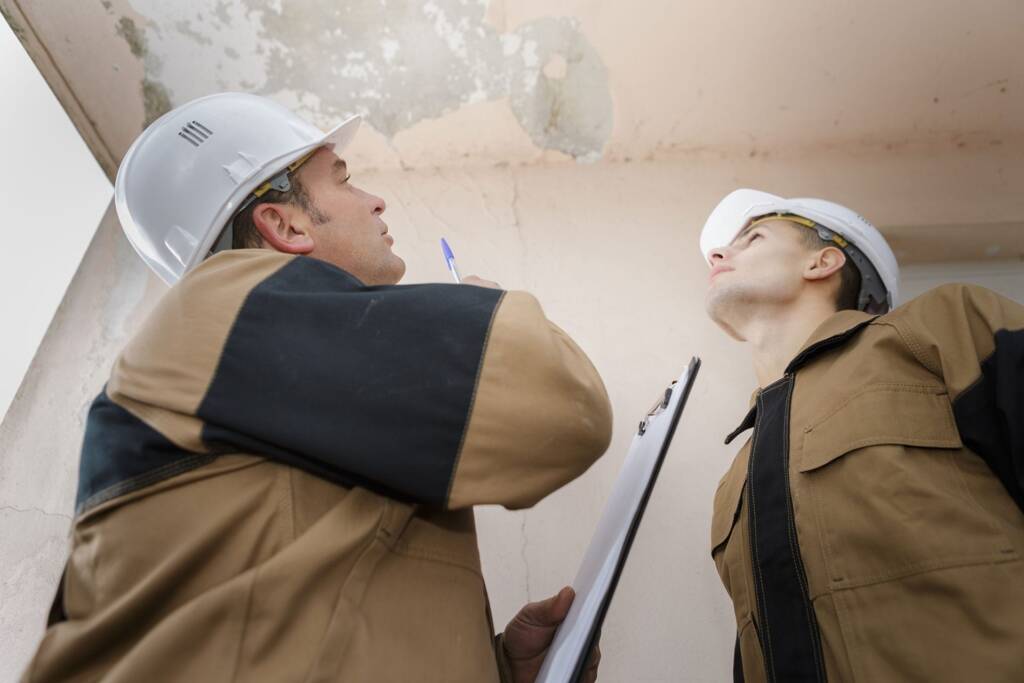 THE THIRD STEP
Water Extraction
The next step is getting rid of the water since flood damage restoration is impossible if there is still an accumulation of water.
To allow for quicker and more effective water extraction, and to prevent further damage to your belongings, you may have to remove some of your furniture and other possessions like paintings, books, and musical instruments.
If you are dealing with grey or black water and there is a health hazard, you and your family may have to move out temporarily.
There are several methods to get rid of water and to dry the area. The most common equipment for water extraction includes, among others, submersible pumps, dehumidifiers, wet and dry vacuums, and hygrometers.
After the water extraction phase is complete, the affected area will be free from standing water and completely dry. The drying method depends on the surface and the risk of further damage during the drying process. In some cases, a non-abrasive drying method is necessary to prevent damage to your property or possessions.
Complete water extraction and drying is a critical stage in the water damage restoration process. If the air near the affected area is still humid, or if the surface is damp, mold-growth, rot, and structural damage is always a possibility.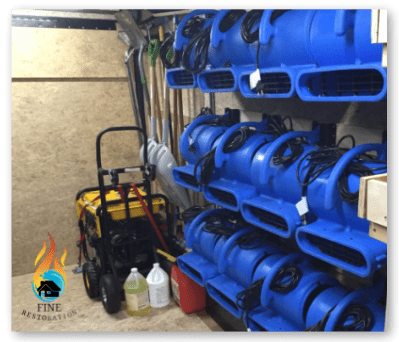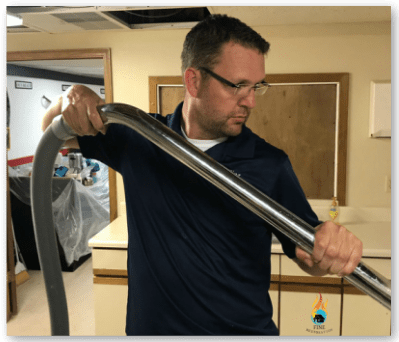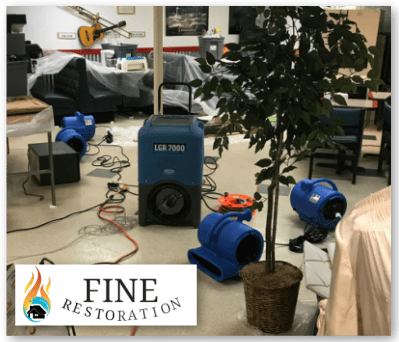 THE FOURTH STEP
Water Damage Assessment
Once the source of the water damage is isolated, and the area is completely dry, a thorough water damage assessment is possible. This assessment differs from the initial assessment as the focus is not on finding the cause of the problem and determining the water category, but instead determining the scale of the water damage.
In most cases, the bulk of the water damage is hidden from plain sight and cannot be determined by conducting a surface inspection. Water damage can reduce structural integrity and create a breeding ground for mold.
To accurately calculate water damage, it may be necessary to take pictures and measurements and to test walls, ceilings, and floors with a moisture meter.
In the case of severe flooding, it may also be necessary to inspect the structure's foundation for any signs of damage.Upon completion of the inspection, further assessment of the initial cause is required, for example, if flooding was the result of a broken pipe elsewhere, repairing the pipe will form part of the water damage restoration service.
An extensive water damage assessment is the foundation of a water damage restoration plan and the restoration project itself.
THE FIFTH STEP
REBUILD & WATER DAMAGE RESTORATION RESTORATION
The final stage is water damage repair. The restoration phase can be the most extensive one, especially if rebuilding is required. Conventional water damage restoration typically includes replacing, demolishing, or repairing structural components and basement water damage repair.
The extent of the restoration phase depends on the damage and can involve restorative work on the structure foundation, roof, and floor coverings.
At Fine-Restoration we offer full residential and commercial rebuild and reconstruction services. Including (but not limited to):
Woodwork
Interior & exterior painting
Drywall
Flooring
Roof repairs
Fencing
Plumbing
Asphalt
Concrete
Masonry
Restoration and rebuilding can also include cleaning and sanitizing activities if there is contamination by grey or black water.
Sanitizing projects include the following:
– Antibacterial and antimicrobial treatments
– Application of disinfectants
– Deodorization with air scrubbers and fogging gear to remove odors
The restoration phase also includes cleaning your property and improving the visual appeal of the structure, for example, painting walls that received treatment for moisture and mold growth.
Fine Restoration's team has all the necessary skills and equipment to conduct a complete water damage clean-up and restoration project. If a flood, burst pipe, broken hot water tank, or stormy weather caused water damage to your property, contact Fine Restoration today.
Contact Us For Water Damage Restoration in Kansas City & Beyond
If you have water damage in your home or commercial property in the greater  Kansas City metro area,  you want a company who knows how to do water damage restoration the right way. Fine Restoration has a water damage restoration process that works and will get your life back to normal as quickly as possible. We also provide residential mold remediation, fire damage restoration, and storm damage restoration services to homes and businesses in our service area which includes the following: Blue Springs, Independence, Leawood, Overland Park, Shawnee, Prairie Village, Belton, Buckner, Bonner Springs, Missouri City, Oak Grove, Raymore, Raytown, Riverside, Smithville, Lee's Summit, Lenexa, Liberty, Olathe,  Edwardsville, Grandview, Lake Lotawana, Lake Winnebago, Lone Jack, Farley, Gladstone, Grain Valley, and the surrounding areas. Call us at 913-270-3646 or contact us online for a fast response.