We're The Fire Damage Restoration Company in Kansas City That You Can Count On Any Time
A residential fire can be devastating. The damage to your home and loss of property as a result of fire can be nearly unparalleled by any other type of damage. Fine Restoration can help. Our fire damage restoration Kansas City-based team is on call 24 hours a day for fire damage repair services in Kansas City and surrounding areas. No matter when you experience fire damage or the extent, our team will be on-site quickly to provide immediate services to salvage your property. From smaller contained fires causing mostly cosmetic damage to total loss scenarios, Fine Restoration is the name to trust. Contact us now for fire damage cleanup, fire damage repair, and fire restoration in Kansas City and the surrounding metropolitan area.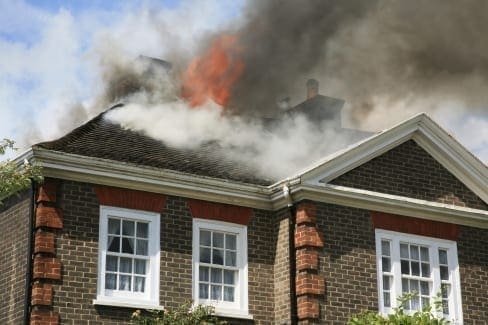 Our Kansas City Fire Damage Restoration Process
1. Initial Contact
As soon as you call, our team will get to work by asking questions to determine the severity of your fire damage in Kansas City. Our goal here is to make sure that our team is prepared to get to work as soon as they arrive on site. It doesn't matter when you call, our team can respond within about an hour as soon as we receive your call.
2. Fire Damage  Assessment
Once we arrive, we will assess the damage and determine how much damage was caused by the fire. This means identifying what items are destroyed and what can be salvaged, but more importantly, is your home structurally sound to work on. Once we complete our assessment we will provide you with our recommendations and a quote, but we will also give you a detailed description of the damage, so you can make an informed decision on next steps.
3. Fire Damage Cleanup
If your home isn't structurally sound, our team will make the necessary repairs so that we can safely begin the cleanup process. First our team will remove any personal belongings that are salvageable and move them off site for safe storage. We will also remove any debris or other items that can't be repaired. We will thoroughly clean all the surfaces and get root of any soot from your home. We will also remove any standing water that may have accumulated from putting the fire out or from burst pipes or exposure to the elements.
4. Board Up  & Tarping
Once we have finished cleanup up any damage from the fire, we will board up your house and place tarps over any areas of your property that are exposed to the elements. By doing this we can mitigate further damage from occurring, prevent mold growth, and keep your home safe to work on. This helps us ensure that your job is completed as quickly as possible without adding any extra expenses.
5. Soot & Smoke Odor Removal
Once your home or building is cleaned up and not at risk from the elements, you may notice that smoky smells still linger in your home. Some of the smoke & soot caused by a fire may contain toxic chemicals so our team will not only deodorize the smoky smells, we will thoroughly clean out any toxic particles as well.
6. Fire Damage Restoration
Finally, our team will get to work on rebuilding and restoring your home to it's pre-loss condition. Our team provides comprehensive fire damage restoration in Kansas City, which means that we will replace & rebuild any furniture, flooring, appliances, install new fixtures, and repair any dry wall & other structural components. The end result is that your home will be returned to it's pre-fire condition, or in some cases, an improved condition.
Choose Fine Restoration If You Have Fire Damage in Kansas City
At Fine Restoration, we understand that even a small house fire can cause major damage to your home or business. Coping with the loss of precious memories & items is hard enough, but when you pile on dealing with the stress of rebuilding your home…well, it can be overwhelming. If you were displaced from your home our team will prioritize making your home safe to move back into quickly. We will also make sure to communicate with you throughout the entire process, to help alleviate some of the uncertainty that comes along with fire damage. When the project is finished our team will even take care of billing your insurance provider so you have one less thing to worry about.