Water Damaged Ceiling Repair in Kansas City & The Surrounding Area
Water damage in a ceiling can be caused by broken pipes, frozen pipes that burst, roof damage, storms, and appliances or bathrooms on the floors above beginning to leak. Water damage that occurs in elevated areas in your home,  such as roof water damage & ceiling water damage, can cause serious issues. Because they are elevated, gravity helps spread the water damage by ruining your walls, the floor below, creating an environment for mold to grow, and sometimes causing electrical issues. Ceiling water damage can be very noticeable, as is the case when a water heater above your ceiling or ceiling pipes burst. However, water damage in your ceiling may manifest very slowly as well, appearing as a water stain that gets larger over time. It doesn't matter how bad the damage is, Fine Restoration is on call 24 hours a day at 913-270-3646 to fix your ceiling leak water damage in Overland Park, Independence, Kansas City & the surrounding cities or towns.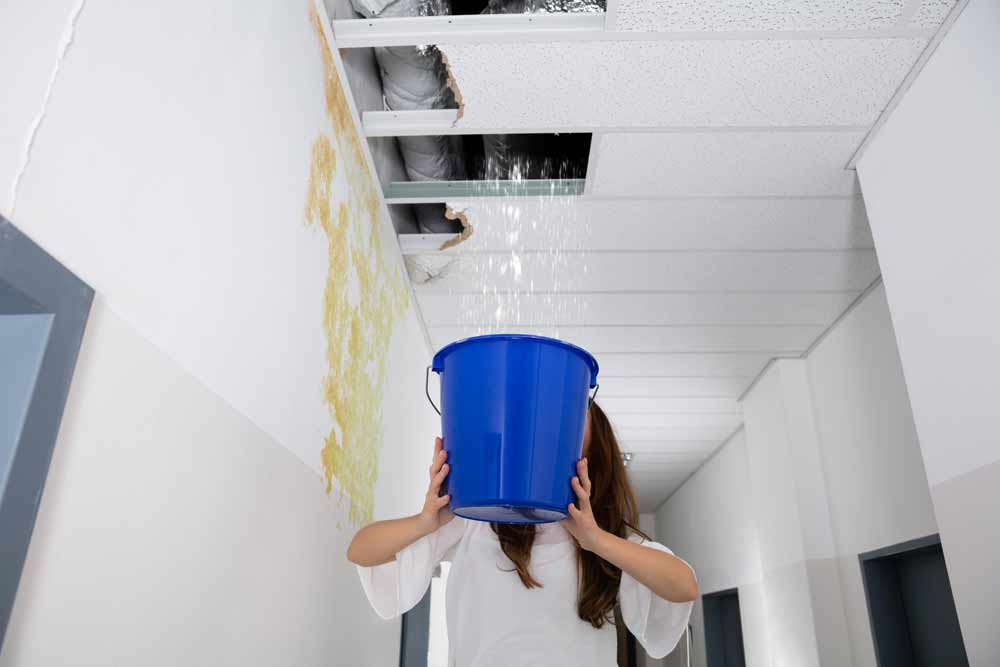 Ceiling Leak Cleanup & Ceiling Water Damage Repair in Kansas City & Beyond
At the first signs of water damage, minor or major, it never hurts to have a ceiling water damage repair company you can count on 24 hours a day. Fine Restoration is licensed and IICRC certified to provide commercial & residential ceiling leak water damage repair in Kansas City, Olathe, Overland Park, Lenexa & the surrounding areas. Whatever the source of your ceiling leak, Fine Restoration can handle the ceiling water damage repair and leave your home in the condition it was in before your ceiling started to leak. Give us a call at 913-270-3646 or contact us online for an estimate on ceiling leak water damage restoration in Kansas & beyond! Below are some services we provide for ceiling leak water damage repair in Kansas, Overland Park, Independence, Lee's Summit & Beyond:
Our Ceiling Leak Water Damage Repair Process
At Fine Restoration, our goal isn't just to fix your ceiling water damage from a cosmetic stand point. We understand that water damage in your ceiling may have caused issues that you weren't aware of. That's why our team inspects the affected area thoroughly to locate and fix the source of the water damage, but also to take note of all of the "hidden" areas that might have been affected. We want to make sure that your electrical systems haven't been damaged, that there's no mold growth and that the area inside your ceiling isn't going to cause issues in the future. We also adhere to our comprehensive water damage restoration process, listed below, to make sure that the affected areas are cleaned and sanitized, the damage is repaired, and your home is left in it's pre-water damaged condition. Once we're done with the project and sure that your home is free from any additional water damage or mold, we can directly bill your insurance company, taking one less stress off of your place. Contact Fine Restoration for roof water damage or ceiling leak water damage in the greater Kansas City Metro area.