Roof Leak Repair & Ceiling Water Damage Restoration in Overland Park
Ceiling Water Damage & Roof Water Damage can cause serious issues in your home if not taken care of. Because water is subject to gravity, when you have a leak in your roof or ceiling, it can flow down the walls to the floor below. Even small leaks in your ceiling or roof can cause major damage over time, such as electrical malfunctioning, wood rot, mold growth, and in some cases damage to the structure of your home. A leak in your roof or ceiling may not be immediately noticeable, but the formation of water stains on your ceiling or walls can be a sign that there's an issue in an area you can't see. Small water stains can turn into water flooding from your ceiling to the floors if the problem doesn't get repaired. Fine Restoration provides Ceiling Water Damage Repair in Overland Park, 24 hours a day, so we can make sure to mitigate any water damage that has been caused. If you have ceiling water damage or a roof water leak in Overland Park, call us at 913-270-3646 or contact us online for a quick response.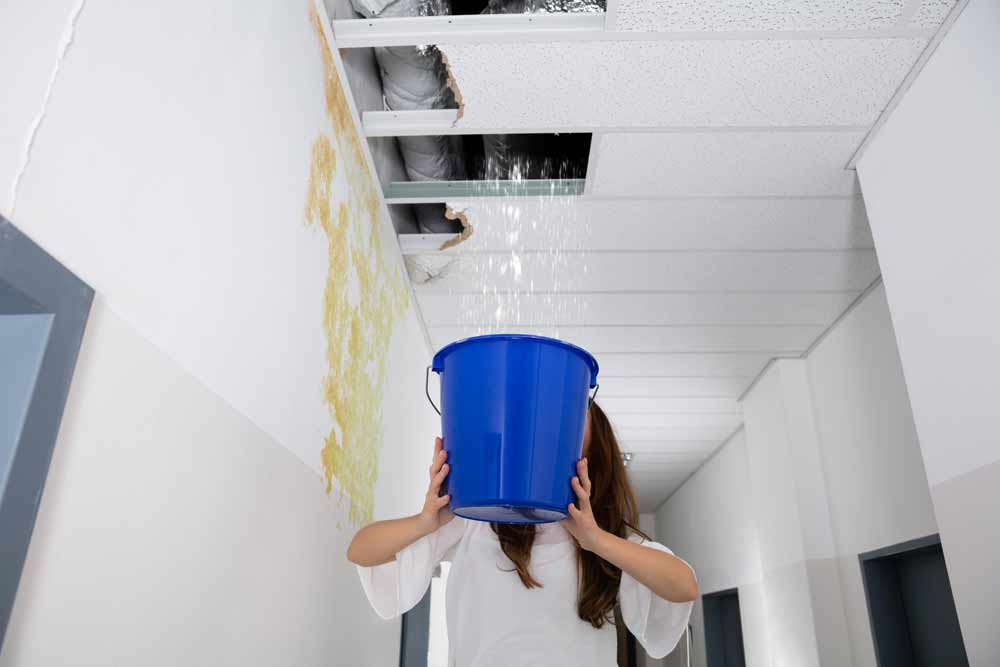 Overland Park Ceiling Water Damage Repair & Roof Leak Repair
Because water damage in your ceiling may have been happening for some time before you noticed it, you should not wait before addressing the issue. Fine Restoration is fully licensed and IICRC certified, which means you can count on us for high quality ceiling water damage & roof water damage restoration in Overland Park. It doesn't matter if it was caused by an appliance leak, broken or frozen pipes bursting, or a storm, our ceiling water damage repair professionals can handle any sized job 24 hours a day. When you call us at 913-270-3646 we will find out more about the size of the issue before deploying our quick response team to begin your roof water damage or ceiling leak repair job in Overland Park. Below are a some of the services we can provide to residential and commercial customers who have been impacted by water damage:
Water Extraction
Roof Leaks & Failures
Property Rebuild & Restoration
Ceiling Water Damage Restoration
Burst Pipe Repair
Structural Drying
Content Pack Out & Storage
Deodorization
Direct Insurance Billing For All Carriers
and More…
Roof & Ceiling Water Damage Restoration Process In Overland Park
Fine Restoration strives to provide comprehensive ceiling water damage repair in Overland Park, which means we don't just fix the visible damage. We will inspect the area above your ceiling or below your roof that may not be easily accessible. This is because we want to make sure there is no mold growth, water damage, or other issues that may cause more damage to your home in the future. The first thing our ceiling water damage repair professionals do when they arrive on site is to find the source of the ceiling or roof water damage and repair it. Then we do an inspection of the impacted areas to create a strategy for the restoration process. We remove any water that may have pooled and dry the areas out before cleaning and sanitizing them. Once the humidity and moisture levels have been brought within acceptable limits, we'll test for mold and make sure there are no traces before we move onto repairing any items or structures that were damaged. The last step in the restoration process is making sure that the aesthetics match the current style of your home. We want it to seem as if there was never any water damage to begin with. If you need roof water damage repair or ceiling water damage restoration in Overland Park, contact Fine Restoration, 24 hours a day.