Ceiling & Roof Leak Repair in Olathe KS
When powerful storms, frozen, leaking, or burst pipes, appliance malfunctions, septic, sewage backups, and other issues lead to water damage to your roof or ceiling, Fine Restoration is there for you 24 hours a day. Our water damage company is always on call to handle roof leak repair and ceiling leak repair in Olathe KS. Our experienced and licensed technicians will provide the services you need quickly and professionally so you can get back to normal day-to-day activities fast. Contact us online or call 913-270-3646 for water-damaged ceilings and roofs as well as other emergency water damage restoration services in Olathe KS and nearby locations.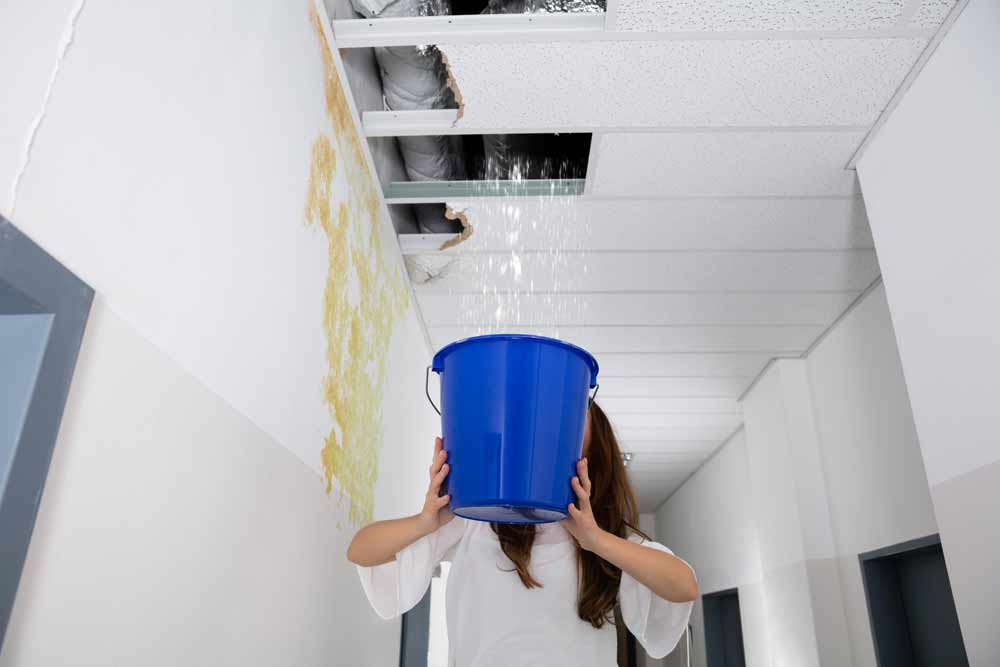 Services For Water Damaged Ceilings in Olathe From Fine Restoration
As a full-service commercial & residential water damage company, Fine Restoration can handle all of the cleanup, repair, and restoration for water-damaged ceilings in Olathe. The technicians on our team are experienced professionals who will restore your home or business quickly and professionally. Contact us now for these and other services for roof leak repair and ceiling leak repair in Olathe KS:
Placement of Tarps
Burst Pipe Repair
Storm Damage Cleanup
Sewage Backup Cleanup
Board Up of Windows & Roofs
Water Extraction & Drying Services
Deodorization
Ceiling & Roof Patching
Inventory, Pack Out & Storage
Property Rebuild & Restoration
Direct Billing To Your Insurance
And Any Other Services You Need!
Our Restoration Process For Water Damaged Roofs & Ceilings in Olathe KS
Fine Restoration is on call around the clock, so no matter when you reach out, we'll arrive in about an hour to get started. Tarps are placed, roofs and windows are boarded, and other steps are taken to prevent further damage. Any standing water inside your property is pumped out, debris is cleared away, furniture and personal effects are moved offsite, and water damage cleanup services are provided. We then get to work on roof leak repair and ceiling leak repair in Olathe KS. Our team also checks surrounding areas for damage. Fine Restoration can handle water damage repair for walls, beams, joists, and any other cosmetic or structural features of your property. Once all repairs are complete, we provide deodorization and mold prevention, and remediation services and submit a claim on your behalf directly to your insurance company. When you need roof leak repair or ceiling leak repair in Olathe KS, contact Fine Restoration to handle all of your cleanup, repair, and restoration needs.